Japan has long been a subject of mystery and wonder within the mixed martial arts community. From the days of tape trading and burned DVDs, to the modern era of YouTube, Dailymotion and torrents; Western fans have always been dedicated to spreading Shin-Kakutogi like the gospel that is, was, and forever shall be.
For me, Japanese MMA was a big reason I got into the sport as a whole. I remember being 18, watching 240p clips of Pride on sketchy websites, desperate to see Bob Sapp pile drive Big Nog, or Cro Cop knock a fool out in K-1. Over the years, my love of JMMA turned into something of an obsession.
There were points as a young adult where all I did was sit on websites like Sherdog's FightFinder and Tapology, cataloging all of the fights I wanted to find and watch. To this day, there are still fights that I want to see and, honestly, ones I will probably die without ever seeing.
Which is, to me, what makes JMMA so fun. That feeling of pure excitement when you finally find that fight you wanted to see hosted on niconico. I didn't care that it was so compressed you could barely even tell what was happening, all that mattered was that I finally found the treasure I had been searching for. It felt special, not like I was just watching a UFC PPV, but actually digging up something that most people hadn't ever seen before.
Thankfully, at this point, it has never been easier to be a JMMA fan. Alongside easier access to content, Twitter users like GrabakaHitman and BasedDongeezus (to name just a few), as well as websites like SkillMMA, MMA-In-Asia and MMA-Japan, have all helped to bring Japan to the forefront of the MMA world.
RIZIN FF have picked up a lot of steam in recent years, putting on some of the best events in recent memory. Fresh promotions like Ganryujima (AKA Moat Fighting) and QUINTET (team based grappling), have used unique concepts to renew interest in Japan's combat sports scene, while mainstays like Pancrase, Shooto and Deep, continue to develop talent at the ground level. Promoters have also learned the importance of connecting with their foreign fanbase, implementing streaming services like FITE TV and UFC Fight Pass, and interacting with them through social media.
With so many new fans popping up, I felt like there was no better time to start this blog. After all of these years of obsessively watching and collecting, I figured it'd be time to actually put all of this useless knowledge to, well… use.
My focus will mainly be on old school and regional JMMA, including write-ups, countdowns and maybe even a video or two. I want this to be more than your average Japanese MMA website. I'd like to use this website as a way to highlight the intricacies, the b-sides, the forgotten fights and faded legends. Not just as an excuse to post a couple freak show fights.
Spreading Japanese MMA and it's history has been something I've wanted to do for awhile now. There are too many incredible fights for me to just not wanna share them with the masses! Of course, I want to expose new fans to awesome fights and fighters, but if I can show a hardcore fan just one fight they've never seen before, I'll have accomplished my goal with this blog.
Most importantly, I want to give you guys my perspective on this fun, crazy and unpredictable part of our sport.
So, with all of that out of the way, please, enjoy, and do not hesitate to let me know what you guys think.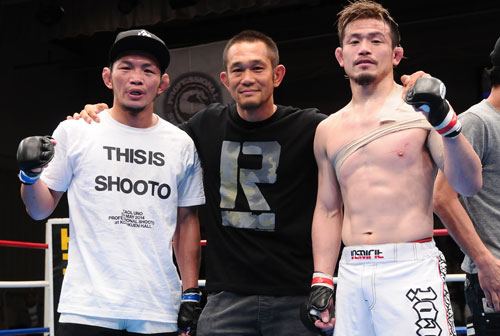 Thanks, and happy reading!
OSS!!!!